I've never really been one for titles, especially those that make me sound like a turd.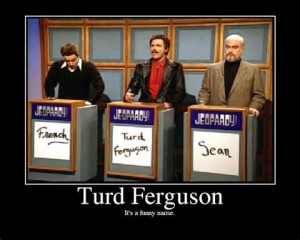 Ok, now that I have you laughing, it's time to get serious people!  There is a lot going on here in Guatemala and I want to talk about it.  Ok, maybe I was being too harsh that time.  I'm trying to find the balance here…work with me.
This past week, our boss, founder, and president of Servants, Inc. came down to sign what we hope will be the final paperwork for legitimatizing "Servants de Guatemala," the new Guatemalan counterpart of Servants, Inc. The reason for this is partly convenience as well as legitimacy for future projects and growth.  But that's not really why I am writing.  I'm writing because of the part we get to play in it.
I along with Missy have been asked to be the Director of Operations (DoO) in Guatemala while the jefe (boss) is not in country.  Now, some might say, "Woohoo!  That's awesome!  You got promoted!"  Others may ask, "Ok, now what?"  Well for right now, nothing changes.  Now that the paperwork is signed, I am officially in charge of officially representing the organization officially here while Trent isn't…officially. (sounds important and official and stuff, I even have my own Spanish business cards!)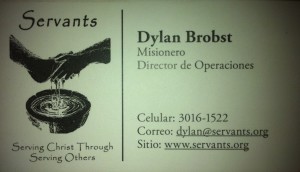 As the ministry here grows and we begin to receive more missionaries here full time (check out The Smiths 2 Guatemala and Val in Villa Nueva), there will be more logistics and strategic planning involved with the organization "on the ground" here in Guatemala.  Additionally, we are currently looking for land to build on!  Servants is looking for a piece of land suitable for missionary housing, team housing, offices, storage for project materials, as well as space to start community outreach projects like schools and job opportunities.  This on top of our regular duties we are currently managing like interfacing with families, coordinating sponsorships, and communicating with the organization in the States on a regular basis will be in our charge.
It is quite an honor to be considered worthy and capable of this position.  Even though it seems like a small undertaking right now, we can't get much smaller so we will only be growing!  With the grace and guidance of God, we hope to be able to live up to the expectations of our organization and the needs of the people of Guatemala.
As I think about it, maybe I would prefer the nickname "Scooby Doo".  Missy can be "Daphne".