So, I had an interesting experience this past Saturday.  It certainly isn't one I should keep to myself, especially given the difference between Guatemalan culture and that of the U.S.  I should start by explaining that the church invited us to do this celebration of theirs with them by saying, "we are going to climb Pacaya (the closest and most touristy volcano) and then afterwards the kids are going to do this torch running thing they do."  When we asked Pastor Jorge about the torch running, he said, "I don't know, it's just what they do."  Ok ok, well it seemed like a fun time and a good opportunity to bond with these folks who have taken us in as family.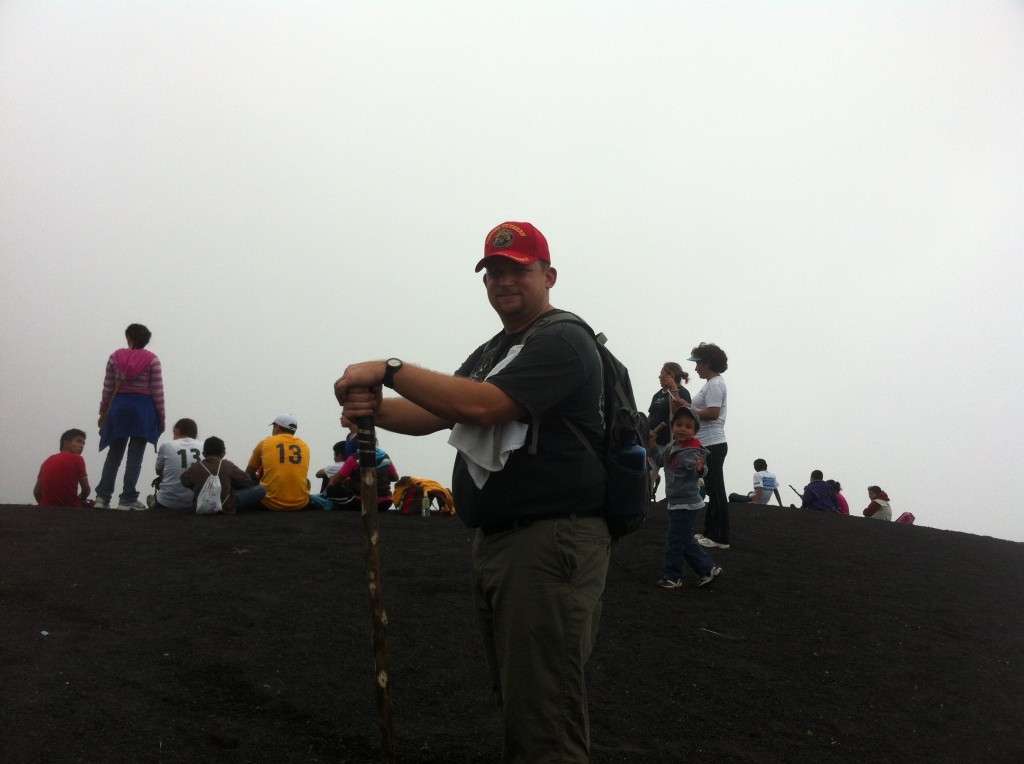 The climb was fun and while it took longer than usual because of the kids, it was very enjoyable.  The kids had a blast and even though they got tired at times, we found unique ways of keeping them engaged and enjoying the hike.
After we reached the top and rolled back down to the bottom we circled around the van for black bean sandwiches and Tortrix, a favorite crunchy snack of Guatemala.  We drove away from the park toward the highway and I was texting the pastor of our progress (he couldn't make it because he was sick).  I told him we were leaving Pacaya but in cars.  Along the way we saw a few groups of folks standing in the rain, holding banners, and lighting torches.  "How silly," I thought to myself as we continued on towards the highway.  We finally reached the highway and suddenly the van pulled over at the exit.  Next thing I know, everyone is climbing out of the van.  The kids are donning Guatemalan flags, Jorge is setting up a speaker system on the roof of the van, and everyone is chowing down on freshly cooked corn from a street vendor.  "Are you gonna run with us?" the kids kept coming up to the car and asking me.  "No, I have to drive," was my excuse.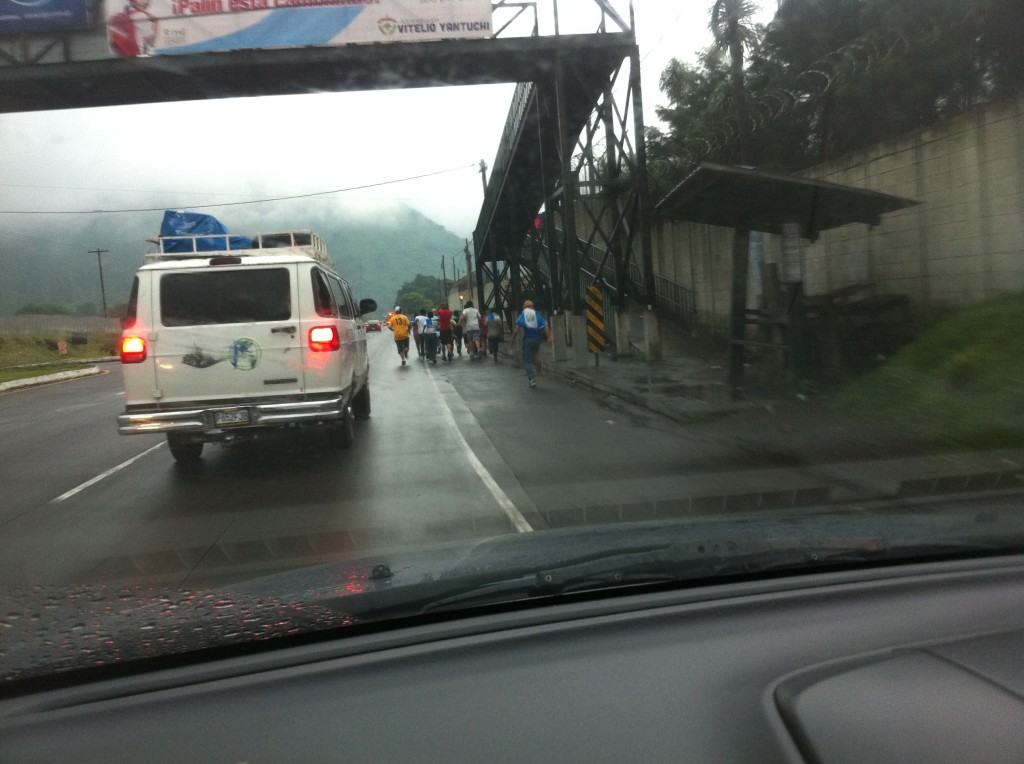 At this point I just kept thinking that my boots I wore certainly wouldn't be good for running and that they will probably just run until the torch goes out or it gets dark.  It took us a good 30-40 minutes to drive to the volcano anyway.  Besides, they said we would be home by around 6 pm, it was a little past 4 at this point.
At about 6 the kids were still running strong.  We followed and watched as countless people lined up along the highway were armed with hoses, water balloons, and large buckets to throw on the runners!  We encountered many other groups which were also running.  This was unbelievable!  I started to believe that they were really going to run all the way home.  As the sky got darker, they kept refueling the torch and rotating runners in and out of the van.  By now, my mind started turning.  "Well, I always say that these boots are like wearing sneakers.  I could really use the extra exercise since I put on a few pounds from our outreach trip.  These kids really want me to run with them.  I wonder if any of the adults in the car would be willing to take the helm."
It wasn't too long afterwards that I asked if someone could drive the car.  "Are you going to go run?" Sandra asked me.  "Yeah, I think so.  Just for a little bit."  As the run went on, I became more and more motivated.  I had an interesting revelation that I couldn't wait to share with someone, but I could only say it once I was out there running with them.  The time came and the van stopped for kids to switch out. "Go, let's do this!" I threw the car in park and jumped out.  Sandra came around and got in the driver's seat.  I ran up ahead of the van and the kids started high-fiving me.  I'm glad I was so easily accepted into their craziness.  Jorge ran up and yelled, "yeah!"  Then I told him what had been on my mind, "This is crazy!  In my country, we celebrate our independence by sitting around and eating all day.  You guys climb a volcano and run a marathon carrying a torch!"  He laughed and patted me on the back.  I must have ran for a good 45 minutes before my body reminded me that I'm not a runner.  I was so motivated by the passion and enthusiasm of the kids.
The older kids took it more seriously.  There were two particular teenagers that literally ran the whole way. After my break I occasionally jumped out to run with them but even though they were running slowly to keep me with them, I couldn't keep up.  We were running up the windy highway and as much as I wanted to keep going, my body said no.  We followed the two young men through the dark highway, torches lighting the way, and then we finally reached the exit to Linda Vista.  We pulled over and everyone got out.  We ran through Linda Vista yelling and shouting about Guatemala's freedom.  It reminded me of my Marine Corps days when we would run around base at 5am yelling at the top of our lungs waking up the other services.  A few blocks away from the church we stopped again to get EVERYONE out (even the little tykes) to run the last stretch together.  As we arrived, the remainder of the congregation was there cheering us on, playing Guatemalan Marimba music and lighting full mats of firecrackers.
Afterwards I heard the Guatemalan national anthem sung for the first time.  The pastor asked me to tell the congregation what I thought.  I had three words: hard, tiring, but fun!  The pastor asked me to give a little story about my experience the next morning at church service.  I shared some pictures and that even though we had fun climbing the volcano and running forever, that the most enjoyable part was witnessing the family bond between everyone and getting to be a part of it.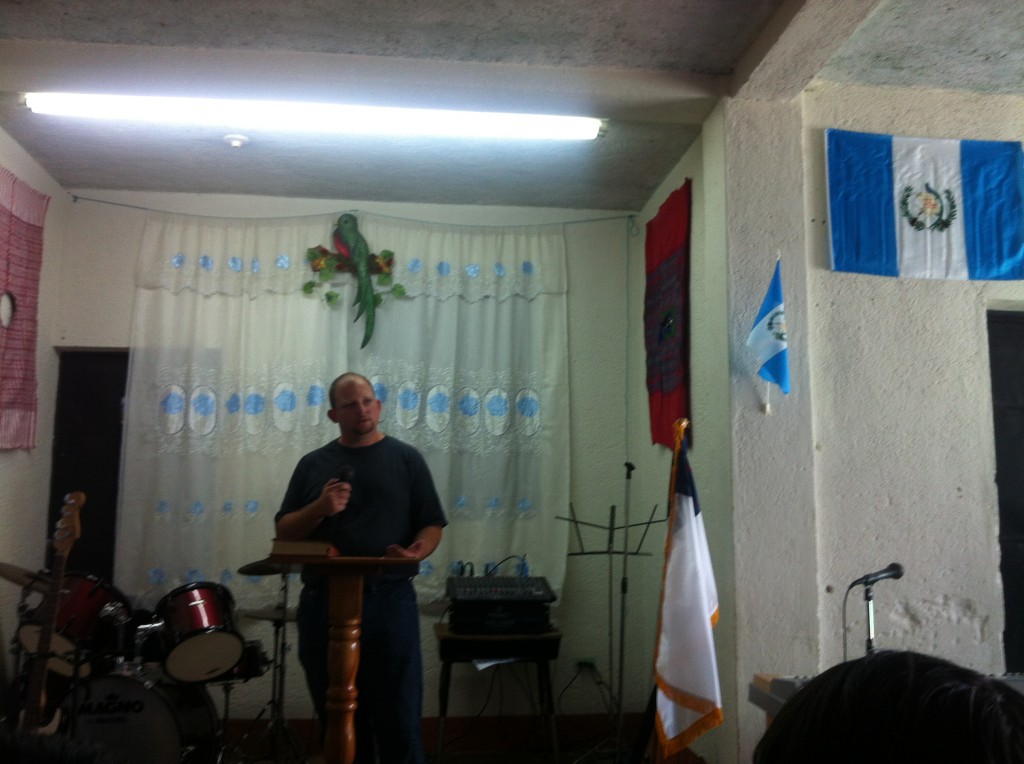 The pastor taught from Hebrews 12 Sunday morning and compared our physical run the night before to our spiritual race we have set before us every day.  Let us never forget that not only must we push and fight and work towards the goal God has set before us but that it is a privilege to be able to do so.
Therefore, since we are surrounded by such a great cloud of witnesses, let us throw off everything that hinders and the sin that so easily entangles. And let us run with perseverance the race marked out for us, 2 fixing our eyes on Jesus, the pioneer and perfecter of faith. For the joy set before him he endured the cross, scorning its shame, and sat down at the right hand of the throne of God. 3 Consider him who endured such opposition from sinners, so that you will not grow weary and lose heart.